24/7 Emergency Breakdown
Home
24/7 Emergency Breakdown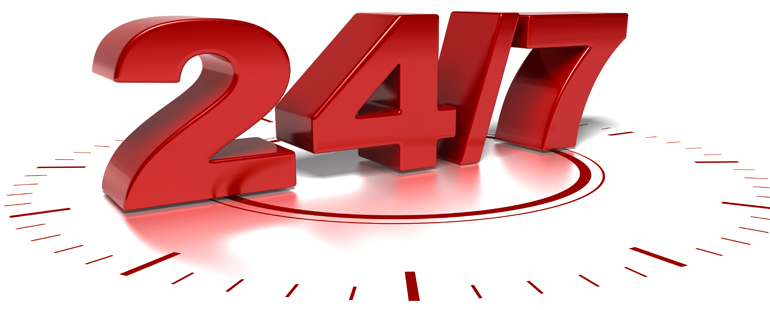 24/7 EMERGENCY AIR CONDITIONING REPAIR SERVICE
Air conditioning breakdowns can strike at any time – and unfortunately, these units are often most likely to have problems right when they're needed most: as temperatures soar to their highest. Breakdowns in your industrial and commercial premises cause uncomfortable and even unsafe working conditions, and lead to downtime that costs your business money. Avoid this catastrophe with SEAC Air conditioning's 24-hour Emergency Air Conditioning Repair and Service.
SEAC Air conditioning offers a 24 hour, 7 day a week air conditioning repairs call-out service for all industrial and commercial premises. Our contracted clients can expect a response time of less than four hours. Additionally, we have all of our regular clients' site, plant, and equipment details on file with spare parts in stock, to ensure a timely resolution of any problems.
We can also offer assistance to non-contracted clients; call 1300 818 450 for an estimation of current emergency response times.
We provide emergency air conditioning assistance throughout Melbourne and the surrounding area. All of our technicians are fully qualified and insured, and travel in a well-stocked service vehicle. With a broad range of knowledge on all matters concerning commercial air conditioning and industrial air conditioning services, they can address your problem on the spot and get your system back up and running as fast as possible.
We can assist with emergency air conditioning repair at:
Retail Centres
Hospitality and Entertainment
Public Buildings
Restaurants and Fast Food Outlets
Warehousing
Hospitals and Healthcare
Office Complexes
Shops / Rental
Child Care Centres / Kindergartens / Schools / Educational Facilities
Multilevel Buildings
Aged care Facilities
Hair & Beauty Salons
Manufacturing
Industrial Facilities
Manufacturing Plants
Multi-level Residential Buildings
To ensure your business is always running at full steam, contact the SEAC Air Conditioning team about becoming one of our valued clients today. Call 1300 818 450 to find out more and gain access to our 24-hour emergency air conditioning repair service.
Read More
The Need for an Emergency Air Conditioning Repair Service
When summer heats up, air conditioning is essential to help you keep cool and comfortable. If you hit difficulties, however, and it no longer works properly — or not at all — that can be a big problem.
The problem can be even worse for commercial air conditioning because it's not simply a matter of keeping building occupants comfortable. Once temperatures start to go above a certain level, customers will stop coming in and employees will struggle to work effectively, hitting productivity and overall performance. As a result, profitability will drop and, if the situation goes on for a prolonged period, the viability of the business may be called into question.
A 24/7 Aircon Repair Service to Exactly Meet your Needs
The seriousness of the situation means that something needs to be put in place to overcome the problem. Depending on the nature of your business, that may require that a 24/7 air conditioning repair service is essential so that any downtime is kept to an absolute minimum.
At SEAC, we can supply exactly the level of support you need since we tailor our services to meet individual requirements. We'll assess your system, find out how your business operates and will provide you with a service agreement that is just right for you. It's neither in our interest or yours to offer something that's not entirely suitable.
Because we know how important air conditioning is to your business, we'll make it easy for you to get in touch if there's a problem and will respond quickly, in accordance with agreed times specified in the service agreement. Our technicians are all knowledgeable and experienced in various makes and types of air conditioning equipment and will quickly identify the fault using a tried and trusted method. Once that's done, we'll fix the problem without delay or, if that's not possible due to its seriousness, will advise you of the situation and suggest ways to alleviate the problem.
We always carry a full set of components so we should normally be able to replace any failed parts and get you up and running again quickly. And we'll keep a complete record of every service call, so we know where previous problems have occurred. That will enable us to highlight any system weaknesses and overcome problems more quickly
Preventative Maintenance Avoids Frequent Emergency Repairs
Whenever possible, we like to avoid the need for an emergency aircon repair because, no matter how quickly it's fixed, it will inevitably cause some disruption. Consequently, in addition to a 24/7 aircon repairs service, we also offer preventative maintenance under an annual service agreement.
At each service, we'll clean, oil and check relevant components and will replace those that are reaching the end of their life. We'll also note any that will need replacing soon and will keep a full record of everything that's done and needs to be done.
By checking and servicing the system periodically, we'll prevent future faults and keep the air conditioning operating efficiently and economically. That will reduce the occurrence of breakdowns and limit the need for emergency repairs, saving money and stress in the long term.
Read Less